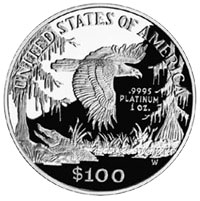 Below, you will find the mintage figures for American Platinum Eagle Coins, including mintages for the regular bullion, collectible Proof, and uncirculated versions of the coin across all denominations.
It's worth noting that American Platinum Eagle bullion coins were not issued from 2009 to 2013 and in 2015. The coin's collectible uncirculated versions, Burnished Platinum Eagles, were issued exclusively from 2006 to 2008. Furthermore, the standard Proof versions have also been issued in a one-ounce size since 2009.
In addition, the lowest mintage coin across all options is the 2008-W 1/2 oz collectible uncirculated coin at only 2,253 pieces. The highest mintage was seen for the 1998 1 oz bullion coin.
Unless otherwise noted, all figures represent the final audited mintage data provided by the United States Mint. In the case of collector coins, the mintages listed included the number of coins sold individually as well as the number of coins sold as part of multi-coin sets.
Bullion Platinum Eagle Mintages
| Date | 1 oz. | 1/2 oz. | 1/4 oz. | 1/10 oz. |
| --- | --- | --- | --- | --- |
| 1997 | 56,000 | 20,500 | 27,100 | 70,250 |
| 1998 | 133,002 | 32,419 | 38,887 | 39,525 |
| 1999 | 56,707 | 32,309 | 39,734 | 55,955 |
| 2000 | 10,003 | 18,892 | 20,054 | 34,027 |
| 2001 | 14,070 | 12,815 | 21,815 | 52,017 |
| 2002 | 11,502 | 24,005 | 27,405 | 23,005 |
| 2003 | 8,007 | 17,409 | 25,207 | 22,007 |
| 2004 | 7,009 | 13,236 | 18,010 | 15,010 |
| 2005 | 6,310 | 9,013 | 12,013 | 14,013 |
| 2006 | 6,000 | 9,602 | 12,001 | 11,001 |
| 2007 | 7,202 | 7,001 | 8,402 | 13,003 |
| 2008 | 21,800 | 14,000 | 22,800 | 17,000 |
| 2014 | 16,900 | – | – | – |
| 2016 | 20,000 | – | – | – |
| 2017 | 20,000 | – | – | – |
| 2018 | 30,000 | – | – | – |
| 2019 | 40,000 | – | – | – |
| 2020 | 56,500 | – | – | – |
| 2021 | 75,000 | – | – | – |
| 2022 | 80,000 | – | – | – |
Proof Platinum Eagle Mintages
| Date | 1 oz. | 1/2 oz. | 1/4 oz. | 1/10 oz. |
| --- | --- | --- | --- | --- |
| 1997 | 20,851 | 15,431 | 18,628 | 36,993 |
| 1998 | 14,912 | 13,836 | 14,873 | 19,847 |
| 1999 | 12,363 | 11,103 | 13,507 | 19,133 |
| 2000 | 12,453 | 11,049 | 11,995 | 15,651 |
| 2001 | 8,969 | 8,254 | 8,847 | 12,174 |
| 2002 | 9,834 | 8,772 | 9,282 | 12,365 |
| 2003 | 8,246 | 7,131 | 7,044 | 9,534 |
| 2004 | 6,007 | 5,063 | 5,193 | 7,161 |
| 2005 | 6,602 | 5,942 | 6,592 | 8,104 |
| 2006 | 9,152 | 7,649 | 7,813 | 10,205 |
| 2007 | 8,363 | 25,519 | 6,017 | 8,176 |
| 2008 | 4,769 | 4,020 | 4,153 | 5,138 |
| 2009 | 7,945 | – | – | – |
| 2010 | 9,871 | – | – | – |
| 2011 | 14,790 | – | – | – |
| 2012 | 9,081 | – | – | – |
| 2013 | 5,763 | – | – | – |
| 2014 | 4,596 | – | – | – |
| 2015 | 3,886 | – | – | – |
| 2016 | 9,151 | – | – | – |
| 2017 | 8,892 | – | – | – |
| 2018 | 15,050 | – | – | – |
| 2019 | 11,268 | – | – | – |
| 2020 | 9,732 | – | – | – |
| 2021 | 9,879 | – | – | – |
| 2022 | TBD | – | – | – |
Uncirculated (Burnished) Platinum Eagle Mintages
| Date | 1 oz. | 1/2 oz. | 1/4 oz. | 1/10 oz. |
| --- | --- | --- | --- | --- |
| 2006-W | 3,068 | 2,577 | 2,676 | 3,544 |
| 2007-W | 4,177 | 3,635 | 3,690 | 5,556 |
| 2008-W | 2,876 | 2,253 | 2,481 | 3,706 |
10th Anniversary Platinum Eagle Set Mintage