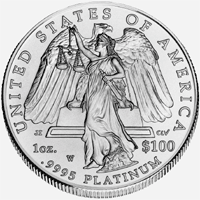 From 2006 to 2008, the United States Mint offered a second numismatic version of the American Platinum Eagle. These coins were referred to as collectible uncirculated versions, although many collectors refer to them as Burnished Platinum Eagles. These coins were sold directly by the United States Mint to collectors in a fashion similar to the collectible Proof coins. The unexpected and somewhat obscure offering experienced low sales, which translated into attractively low mintages.
The collectible uncirculated Platinum Eagles are created through a specialized minting process. Burnished coin blanks are hand fed into specially prepared presses one at a time. Although the appearance of the coins is similar to the bullion versions, these uncirculated versions typically have a superior strike and finish and are handled more delicately.
The Burnished Platinum Eagles are also differentiated from bullion versions by the use of the annually rotating reverse design, also used on the Proof versions, and the appearance of the "W" mint mark. The coins were available in four different sizes ranging from one-tenth ounce to one ounce, packaged and sold individually or as part of a four coin set.
During the three years of availability, the reverse designs of the coins featured the Legislative Muse (2006), a Bald eagle representing the Executive branch (2007), and Lady Justice representing the Judicial branch (2008). Sales levels were lower than the corresponding Proof versions of the coins. This culminated with the absolute mintage low of just 2,253 pieces for the one half ounce 2008-W Uncirculated Platinum Eagle.
At the end of 2008, the U.S. Mint announced the discontinuation of the collectible uncirculated platinum eagles. This was done as part of a broader realignment of the entire numismatic portfolio. The briefly issued Burnished Platinum Eagles now represent a unique three year subset of the series, which may garner a specialized following in later years.

< Joel Iskowitz |PCGS & NGC Platinum Eagles >