The United States Mint's platinum investment and collector coin series continued with the issuance of the 2005 Platinum Eagle (Buy on eBay). The bullion versions were made available through a network of authorized purchasers based on the market price of platinum plus a mark up. The collector versions were offered directly by the United States Mint at higher fixed prices.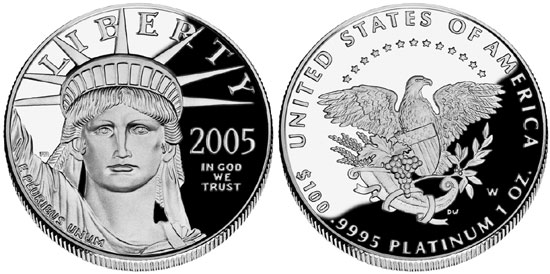 Sales of the bullion coins continued to fall amidst a steady rise in the price of platinum. New annual sales lows were once again established for each of the four different sized coins available. The U.S. Mint offered one ounce coins with a legal tender face value of $100, one-half ounce coins with a face value of $50, one-quarter ounce coins with a face value of $25, and one-tenth ounce coins with a face value of $10.
The 2005 Proof Platinum Eagle (Buy on eBay) coins were offered by the United States Mint starting on April 7, 2005. This launch date was more than five months earlier than the previous year. The same pricing and maximum mintage levels were maintained for each of the individual proof coins and the four coin set. The U.S. Mint experienced higher sales across all product options, reversing the trend of steadily lower numismatic sales for the program.
The reverse design featured on the proof coins was designed by Donna Weaver and features a collection of design elements representing the bounty within the borders of America. An eagle appears with a shield, olive branch, and thirteen stars above. Below is an overflowing cornucopia intended to embody the good fortune of a strong and abundant harvest.
The market price of platinum began the year around $850 and was relatively flat for the first half of the year. In the second half, the price rose steadily and peaked above $1,000 per ounce, before declining in the final month of the year to close at $965. The average price for all of 2005 was $896.87.
2005 Platinum Eagle Specifications
Designers: John Mercanti (obverse), Thomas D. Rogers (bullion reverse), Donna Weaver (proof reverse)
Composition: 99.95% platinum
Weight ($100 Denom): 31.120 grams (1.0005 oz )
Diameter ($100 Denom): 32.7 mm (1.287 inches)
Thickness ($100 Denom): 2.39 mm (0.094 inches)
Edge: Reeded
Mint Mark: none (bullion), W (proof)
2005 Platinum Eagle Mintage
Bullion Mintage: 6,310 (1 oz), 9,013 (1/2 oz), 12,013 (1/4 oz), 14,013 (1/10 oz)
Proof Mintage: 6,602 (1 oz), 5,942 (1/2 oz), 6,592 (1/4 oz), 8,104 (1/10 oz)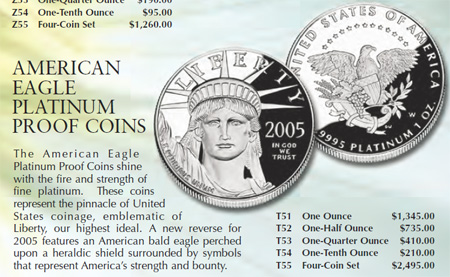 < 2004 Platinum Eagle | 2006 Platinum Eagle >