The 1998 Platinum Eagle (Buy on eBay) was the second year of issue for the new platinum series. The mintage for the bullion coins increased over the levels of the prior year. The individual and set options for the proof coins achieved a sell out, although the United States Mint set lower maximum mintage levels than the previous year.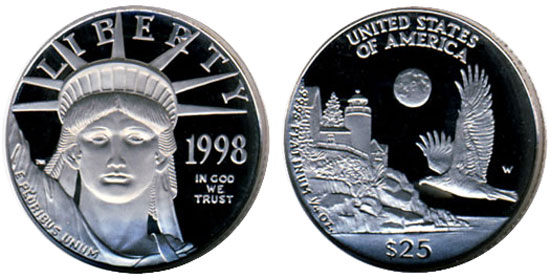 This year began the first in a series of annually rotating reverse designs featured on the collector versions of the coins. Known as the "Vistas of Liberty", the designs would feature the bald eagle in different regions of the United States. According to U.S. Mint Director Philip Diehl, "The Vistas of Liberty will profile the unique character and charisma of our Nation's diverse landscapes, capturing the spirit and strength of America and its people."
The 1998 Proof Platinum Eagle (Buy on eBay) featured a depiction of the bald eagle on the coast of New England. The eagle soars above the Atlantic Ocean, along a craggy coastline. A lighthouse completes the image, intended to represent America as a beacon to weary travelers from across the seas. The reverse was designed by John Mercanti, whose depiction of the Statue of Liberty is used for the obverse.
Both the bullion and collector coins were available in four different sizes including 1 ounce, 1/2 ounce, 1/4 ounce, and 1/10 ounce size coins. Each coin carried a different face value $100, $50, $25, and $10.
The average price of platinum during 1998 was $372.15.
1998 Platinum Eagle Specifications
Designers: John Mercanti (obverse), Thomas D. Rogers (bullion reverse), John Mercanti (proof reverse)
Composition: 99.95% platinum
Weight ($100 Denom): 31.120 grams (1.0005 oz )
Diameter ($100 Denom): 32.7 mm (1.287 inches)
Thickness ($100 Denom): 2.39 mm (0.094 inches)
Edge: Reeded
Mint Mark: none (bullion), W (proof)
1998 Platinum Eagle Mintage
Bullion Mintage: 133,002 (1 oz), 32,419 (1/2 oz), 38,887 (1/4 oz), 39,525 (1/10 oz)
Proof Mintage: 14,912 (1 oz), 13,836 (1/2 oz), 14,873 (1/4 oz), 19,847 (1/10 oz)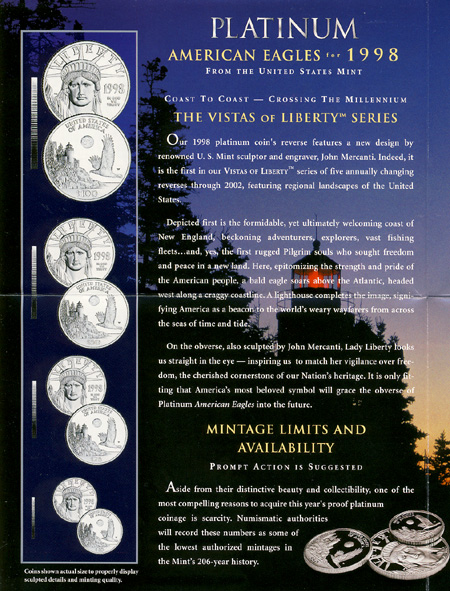 < 1997 Platinum Eagle | 1999 Platinum Eagle >