The 2007 Platinum Eagle (Buy on eBay) represents an exciting issue for the bullion and collector coin series. Higher platinum prices led to low mintages for the bullion coins, a special set was issued to mark the 10th anniversary of the series, and an extremely scarce pre-production strike or error was inadvertently released.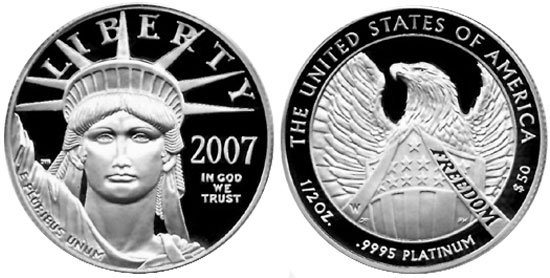 The market price of platinum began the year around the $1,100 per ounce level and moved steadily higher finish the year at $1,530 per ounce. The average cumulative price for the entire year was $1303.50. The rapid ascent perhaps gave more buyers pause, resulting in low bullion coin sales. Both the one-half ounce and one-quarter ounce versions experienced their lowest mintages on record at 7,001 and 8,402, respectively.
On July 17, 2007, the United States Mint began sales of the numismatic versions of the coins, which included both proof and uncirculated strikes. The reverse of each coin featured the second design within a three year series depicting the foundations of American democracy. To recognize the executive branch, a bald eagle was shown with its wings spread representing freedom and a shield at its chest ready to enforce laws and guarantee those freedoms. The word "FREEDOM" appeared on a ribbon draped across the shield. The reverse was designed by Thomas Cleveland and engraved by Phebe Hemphill.
Proof Coin
The 2007 Proof Platinum Eagle (Buy on eBay) was available individually in one ounce, half ounce, quarter ounce, and tenth ounce sizes, or as a complete four coin set. Pricing for the coins was increased from the prior year and the product limit for the two largest sizes was increased slightly. More than three years after the initial release of the coins, a scarce error coin known as the 2007 "Frosted Freedom" Platinum Eagle was identified and certified by the NGC. These coins were actually pre-production strikes that were inadvertently released to collectors.
Uncirculated Coin
The 2007-W Uncirculated Platinum Eagle (Buy on eBay) was available in the same array of four different individual sizes or a complete four coin set. These coins were struck on specially burnished blanks, carried the "W" mint mark, and featured the executive branch reverse design. Price levels were slightly lower than the prices of the corresponding proof versions. The U.S. Mint offered the collectible uncirculated coins without a specified maximum mintage or product limit. Final sales and the resulting mintages were below the low levels of the proof coins.
On November 28, 2007, the U.S. Mint offered a special 10th Anniversary Platinum Eagle Set containing one-half ounce proof and reverse proof versions of the coins. This became the highest selling platinum numismatic product in years.
2007 Platinum Eagle Specifications
Designers: John Mercanti (obverse), Thomas D. Rogers (bullion reverse), Thomas Cleveland (proof reverse)
Composition: 99.95% platinum
Weight ($100 Denom): 31.120 grams (1.0005 oz )
Diameter ($100 Denom): 32.7 mm (1.287 inches)
Thickness ($100 Denom): 2.39 mm (0.094 inches)
Edge: Reeded
Mint Mark: none (bullion), W (proof), W (uncirculated)
2007 Platinum Eagle Mintage
Bullion Mintage: 7,202 (1 oz), 7,001 (1/2 oz), 8,402 (1/4 oz), 13,003 (1/10 oz)
Proof Mintage: 8,363 (1 oz), 25,519 (1/2 oz)*, 6,017 (1/4 oz), 8,176 (1/10 oz)
Uncirculated (W) Mintage: 4,177 (1 oz), 3,635 (1/2 oz), 3,690 (1/4 oz), 5,556 (1/10 oz)
*includes estimated coins sold in 10th Anniversary Set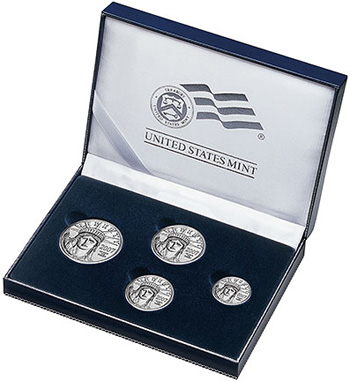 < 2007 "Frosted Freedom" Platinum Eagle | 10th Anniversary Set >