2017 marked the 20th anniversary of the American Platinum Eagle Coin Program launched in 1997 in bullion and Proof versions.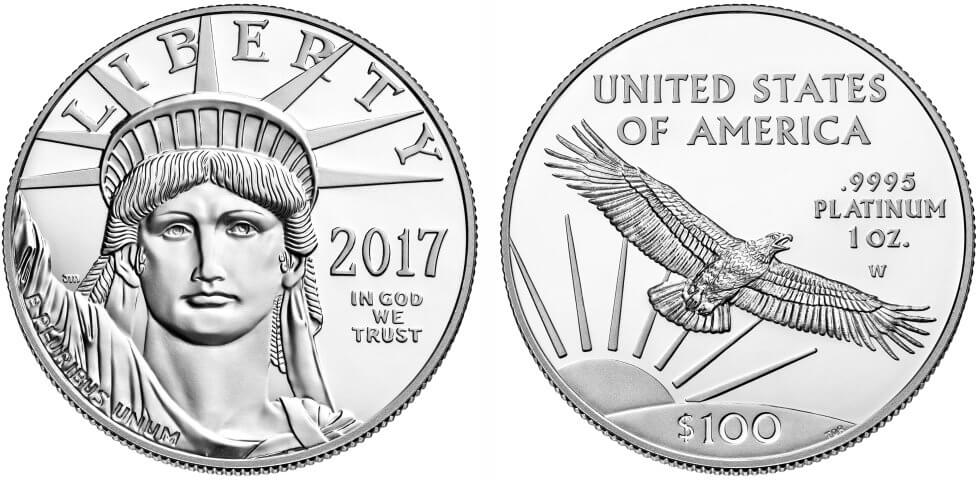 $100, 1-ounce bullion coins in 2017 (Buy on eBay) went on sale on January 23, 2017, selling 20,000 coins that same day to the U.S. Mint's network of authorized distributors, which turned out to be the entire run for that year. No more platinum bullion coins were offered in 2017, but there was clearly demand for more coins if the Mint could have secured platinum planchets to make more. It is likely that the Mint was factoring in its plans for that year's Proof Platinum Eagle Coin when it decided to limit the production of bullion coins to 20,000.
To mark the 20th anniversary, a 2017 Platinum Eagle Coin $100, 1-Ounce Proof Coin (Buy on eBay) was sold starting on July 6 that returned to the original designs of this coin that first appeared in 1997. It featured an obverse with a modern-looking profile of the Statue of Liberty by John Mercanti known as the "Portrait of Liberty", paired with Thomas D. Rogers's "Soaring Eagle" reverse design. This is the only year that a Proof Platinum Eagle used the same reverse design as the bullion coins as this series is known for its changing reverse designs on the Proof versions.
Those coins sold about 50% of the coin's mintage limit of 10,000 with a household order limit of one coin within hours of going on sale on July 6. It was initially priced at $1,300. Sales continued at a slower pace after that, reaching 9,200 by late August. Then the coin kept going back and forth between being available and being unavailable as the Mint reconciled orders until late September when the coin was declared sold out.
2017 Platinum Eagle Specifications
Designer: John Mercanti (obverse), Thomas D. Rogers (reverse)
Composition: 99.95% pure platinum
Weight: 31.120 grams (1.0005 oz)
Diameter: 32.7 mm (1.287 inches)
Thickness: 2.39 mm (0.094 inches)
Edge: reeded
Mint Mark: W (proof)
2017 Platinum Eagle Mintage
Bullion: 20,000
Proof: 8,892

< 2016 Platinum Eagle | 2018 Platinum Eagle >