The bullion version of the 2023 Platinum Eagle (Buy on eBay) went on sale in March when the Mint's network of Authorized Purchasers purchased 7,500 coins. The following month's sales were just 500 coins in April, then 1,200 in May, and higher sales of 3,500 in June. So far through July, sales for the bullion coin have reached 12,700.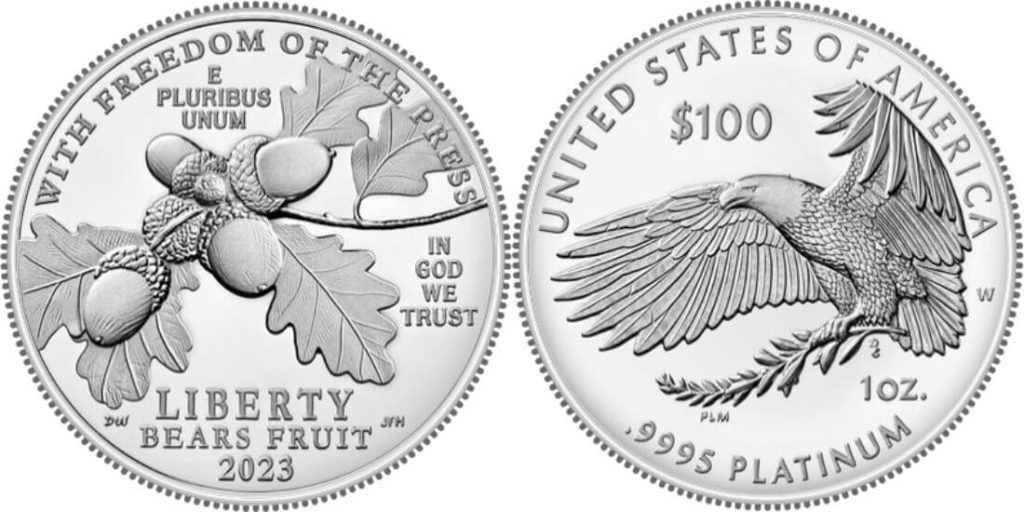 The 2023-W Proof American Platinum Eagle (Buy on eBay) went on sale on February 23, priced at $1,545, with no household order limit but a mintage and product limit of 12,000 coins.
The the proof version of this coin is the third release in the current series of Platinum Eagles dedicated to the First Amendment to the U.S. Constitution. The 2023 coin focuses on Freedom of the Press, which is depicted as a branch of a mature oak tree with acorns.
This imagery is a metaphor for the growth of the United States as a nation that values freedom. Liberty grows into a symbol of strength from a seed — the Bill of Rights.
The obverse design portrays the branch of a mature oak tree with acorns amid the inscription "WITH FREEDOM OF THE PRESS LIBERTY BEARS FRUIT." Additional inscriptions are "IN GOD WE TRUST," "E PLURIBUS UNUM," and "2023." It was designed by Artistic Infusion Program Designer Donna Weaver and sculpted by United States Mint Chief Engraver Joseph Menna.
The typical reverse design for this coin series depicts an eagle in flight and an olive branch in its talons. Inscriptions are "UNITED STATES OF AMERICA," "$100," "1 OZ.," and ".9995 PLATINUM."
Sales for the first four days the coin was available were strong at 9,620. That level was much stronger than the previous two years, at 4,961 in 2021 and 6,668 in 2022. Sales in the following months were not as strong, and as of July 23, cumulative sales were 7,657 due to order cancellations.
2023 American Platinum Eagle Specifications
Designers: John Mercanti (obverse), Thomas D. Rogers Sr. (reverse)
Composition: 99.95% pure platinum
Weight: 31.120 grams (1.0005 troy oz)
Diameter: 32.7 mm (1.287 inches)
Thickness: 2.39 mm (0.094 inches)
Edge: reeded
Mint Mark: none
2023-W American Platinum Eagle Specifications
Designers: Donna Weaver (obverse), Joseph Menna (obverse sculptor), Patricia Lucas Morris (reverse), Donald Everhart (reverse sculptor)
Composition: 99.95% pure platinum
Weight: 31.120 grams (1.0005 troy oz)
Diameter: 32.7 mm (1.287 inches)
Thickness: 2.39 mm (0.094 inches)
Edge: reeded
Mint Mark: "W" (West Point)
2023 American Platinum Eagle Mintages
Bullion: 12,700
Proof: 7,657
Based off sales numbers as of July 23, 2023