The bullion version of the 2022 American Platinum Eagle (Buy on eBay) went on sale in February when the United States Mint's network of Authorized Purchasers purchased 25,800 coins, which was followed by another 14,200 coins in March. No sales were listed for April, May or June, and as of June 24 cumulative sales were 40,000 coins. It is likely more coins will be made available this year.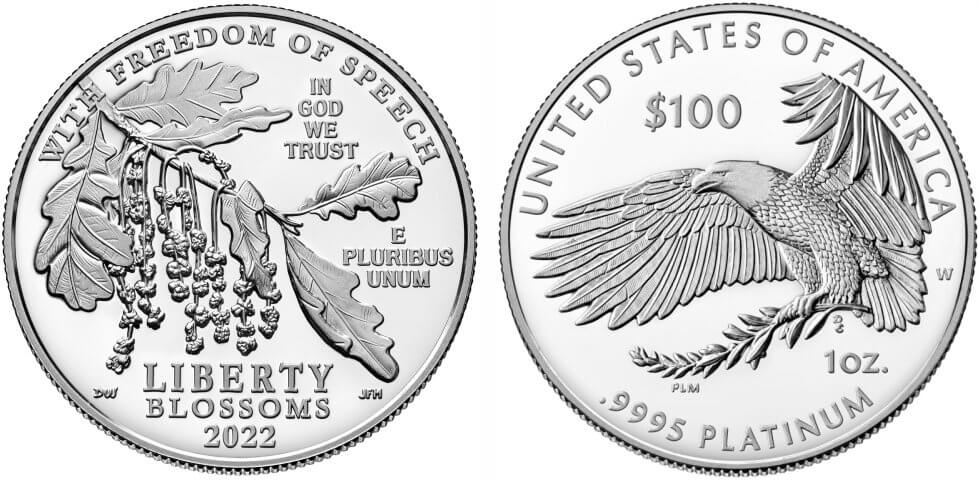 The 2022-W Proof American Platinum Eagle (Buy on eBay) went on sale on March 3 priced at $1,495 with no household order limit but a mintage and product limit of 15,000 coins. This coin is the second in the five-year series on the First Amendment to the Constitution and is dedicated to the freedom of speech.
Designed by Donna Weaver and sculpted by Joseph Menna, the obverse of the 2022 coin depicts a branch from a young oak tree that has begun to grow acorns and leaves, continuing the oak tree lifecycle metaphor begun with the first coin in 2021. Below appears the inscription, "WITH FREEDOM OF SPEECH LIBERTY BLOSSOMS".
The reverse features the common design by Patricia Lucas-Morris used on this and the prior series in 2018-2020 that depicts an eagle in flight carrying an olive branch in its talons.
During the first four days of sales, the coin sold 6,668 coins, or 44.5 % of the authorized maximum mintage. Through June 19, cumulative sales were 8,456 coins.
2022 Platinum Eagle Specifications
Designers: John Mercanti (obverse), Thomas D. Rogers Sr. (reverse)
Composition: 99.95% pure platinum
Weight: 31.120 grams (1.0005 oz)
Diameter: 32.7 mm (1.287 inches)
Thickness: 2.39 mm (0.094 inches)
Edge: reeded
Mint Mark: none
2022-W Platinum Eagle Specifications
Designers: Donna Weaver (obverse), Patricia Lucas-Morris (reverse)
Composition: 99.95% pure platinum
Weight: 31.120 grams (1.0005 oz)
Diameter: 32.7 mm (1.287 inches)
Thickness: 2.39 mm (0.094 inches)
Edge: reeded
Mint Mark: "W" (West Point)
2022 Platinum Eagle Mintage
Bullion: 80,000
Proof: 9,918
Based off sales numbers as of August 10, 2023


< 2021 Platinum Eagle | 2023 Platinum Eagle >