The United States Mint only offered the 2010 Platinum Eagle (Buy on eBay) in collectible proof version. This was the second year in a row that the bullion version of the coin was not available. At the end of 2008, the U.S. Mint had indicated that production would be temporarily suspended in order to divert capacity to the production of as many gold and silver bullion coins as possible. This temporary suspension had now become an outright cancellation for two years running.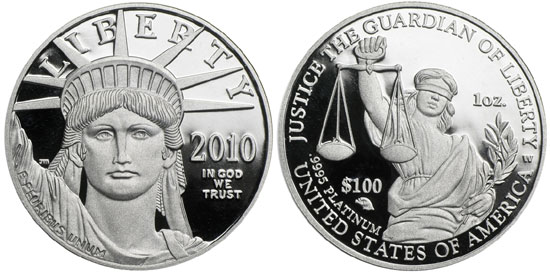 To Establish Justice
The 2010 Proof Platinum Eagle featured the second design in the six year series featuring the core concepts of American democracy. The theme "To Establish Justice" was represented by the image of a blindfolded justice holding scales and a laurel branch. An inscription above indicated "JUSTICE THE GAURDIAN OF LIBERTY". The American Eagle privy mark featuring the head of a bald eagle was positioned below the denomination. The reverse was designed by Donna Weaver and sculpted by Phebe Hemphill.
The obverse of the coin features the same rendition of the State of Liberty designed by John Mercanti that had been used for each release of the series.
Only one ounce sized coins were offered with a maximum authorized mintage of 10,000 pieces. This was an increase of 2,000 compared to the maximum established for the prior year. The coins were packaged in a custom designed portfolio presentation case. One side of the case featured the narrative description for the theme written by Chief Justice John G. Roberts that had served as the inspiration for the design. The other side of the case included coin specifications and the certificate of authenticity.
Sales officially began at the United States Mint on August 12, 2010. The 2010 Proof Platinum Eagle was initially priced at $1,892 and carried an ordering limit of five coins per household. By August 15, sales had reached 8,268 of the 10,000 maximum mintage. On August 18, the price of the coin was reduced to $1,792 based on a lower weekly average price of platinum. The following day, a sell out of the maximum mintage was achieved.
2010 Platinum Eagle Specifications
Designers: John Mercanti (obverse), Donna Weaver (proof reverse)
Composition: 99.95% platinum
Weight ($100 Denom): 31.120 grams (1.0005 oz )
Diameter ($100 Denom): 32.7 mm (1.287 inches)
Thickness ($100 Denom): 2.39 mm (0.094 inches)
Edge: Reeded
Mint Mark: W (proof)
2010 Platinum Eagle Mintage
Bullion Mintage: none issued
Proof Mintage: 9,871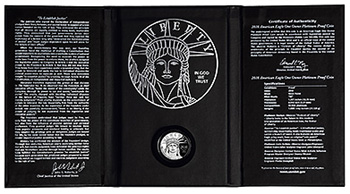 < 2009 Proof Platinum Eagle | 2011 Proof Platinum Eagle >