In 2018 the bullion version of the American Platinum Eagle $100, 1-Ounce Coin (Buy on eBay) was sold beginning on February 12, 2018. This coin continued to retain the same obverse of the Statue of Liberty by John Mercanti and reverse of a soaring eagle by Thomas D. Rogers that the bullion coins have had since 1997.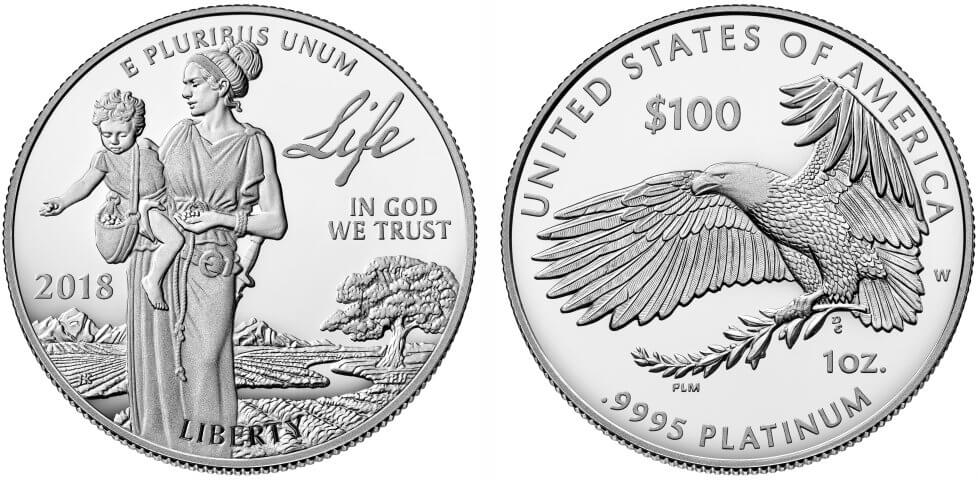 It sold 20,000 coins that month on an allocated basis to the United States Mint's network of Authorized Purchasers. No coins were available in March or April, and then 10,000 were sold in May, which depleted the Mint's allocation of bullion platinum coins for 2018.
Beginning in 2018, the American Platinum Eagle $100, 1-Ounce Proof Coin (Buy on eBay) of the American Platinum Eagle was dedicated for the next three years to a series called Preamble to the Declaration of Independence that featured a different motif of Liberty each year paired with a common reverse with an eagle in flight carrying an olive branch designed by Patricia Lucas-Morris and sculpted by Donald Everhart. Each of the three coins' obverse designs was created by Justin Kunz and sculpted by Phebe Hemphill.
The 2018-W Proof American Platinum Eagle obverse design features "Life" personified by Lady Liberty teaching a small child to sow seeds in a field. The sword she carries symbolizes the power to defend life. The furrowed earth represents the forethought and labor required to sustain life. The tree and stream represent nature, suggesting the need to be good stewards of an environment that sustains life.
These coins went on sale on January 25, 2018 with an initial price of $1,420, a maximum mintage of 20,000 coins and a household order limit of one coin. First-day sales reached 4,420 coins, or 22% of the authorized maximum. The household order limit was lifted the day after its release.
The coin did not sell out of its mintage limit with cumulative sales reaching a total of 15,050 coins.
2018 Platinum Eagle Specifications
Designer: Justin Kunz (Proof obverse), Patricia Lucas-Morris (Proof reverse)
Composition: 99.95% pure platinum
Weight: 31.120 grams (1.0005 oz)
Diameter: 32.7 mm (1.287 inches)
Thickness: 2.39 mm (0.094 inches)
Edge: reeded
Mint Mark: W (proof)
2018 Platinum Eagle Mintage
Bullion: 30,000
Proof: 15,050

< 2017 Platinum Eagle | 2019 Platinum Eagle >