The United States Mint's series of .9995 Platinum coins continued with the issuance of the 2002 Platinum Eagle (Buy on eBay). As in the past, the coins were available in bullion format through a network of authorized purchasers or in proof format from direct sales from the U.S. Mint.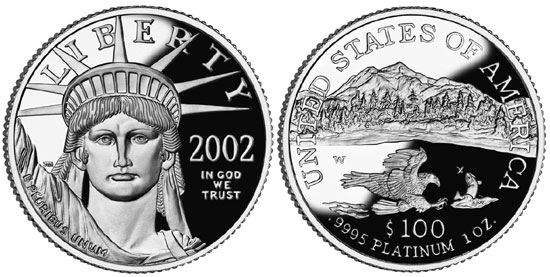 The bullion coins have featured the same designs since the beginning of the series. The obverse features a portrait of the Statue of Liberty designed by John Mercanti. The inscriptions include "LIBERTY", "IN GOD WE TRUST", and the date, along with "E PLURIBUS UNUM" incused on the statue's shoulder. The reverse design by Thomas D. Rodgers features a soaring bald eagle against a backdrop of a rising sun and its rays.
In contrast, the proof coins of the series have featured an annually rotating reverse design. The 2002 Proof Platinum Eagle (Buy on eBay) contained the fifth and final reverse design within the "Vistas of Liberty" series, which depicted the bald eagle in different landscapes of America. The bald eagle is shown swooping towards a trout leaping from a lake. The background of the scene contains the snow capped mountains and trees of the American Northwest. This year's reverse was designed by Alfred Maletsky.
For a second year, the U.S. Mint maintained the same pricing levels for the individual proof coins and the four coin proof set, as well as the same maximum mintage levels. Sales began on August 5, 2002 and continued until the end of the year. The final sales were relatively flat compared to the previous year.
The average price of platinum during 2002 was $539.13.
2002 Platinum Eagle Specifications
Designers: John Mercanti (obverse), Thomas D. Rogers (bullion reverse), Alfred Maletsky (proof reverse)
Composition: 99.95% platinum
Weight ($100 Denom): 31.120 grams (1.0005 oz )
Diameter ($100 Denom): 32.7 mm (1.287 inches)
Thickness ($100 Denom): 2.39 mm (0.094 inches)
Edge: Reeded
Mint Mark: none (bullion), W (proof)
2002 Platinum Eagle Mintage
Bullion Mintage: 11,502 (1 oz), 24,005 (1/2 oz), 27,405 (1/4 oz), 23,005 (1/10 oz)
Proof Mintage: 9,834 (1 oz), 8,772 (1/2 oz), 9,282 (1/4 oz), 12,365 (1/10 oz)
< 2001 Platinum Eagle | 2003 Platinum Eagle >