The United States Mint issued the 2007 10th Anniversary American Platinum Eagle Set (Buy on eBay) to celebrate the important milestone for the series. The bullion and collector coins struck in .9995 Platinum had first been released in 1997, joining the gold and silver coins offered under the American Eagle Program.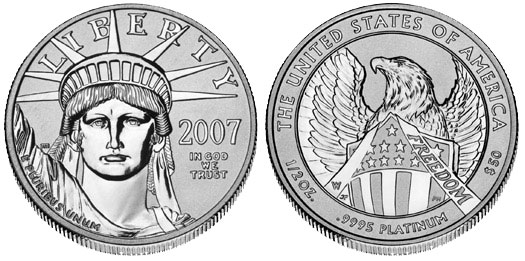 The special set followed the release of both Proof and uncirculated numismatic versions earlier in the year. The 10th Anniversary Platinum Eagle Set was announced in late November and scheduled to go on sale December 13, 2007. Each set would contain two one-half ounce platinum coins. The first carried a standard cameo proof finish, with frosted raised elements and mirrored background fields. The second had a special Reverse Proof finish, with mirrored raised elements over frosted background fields. Both coins carried the executive branch reverse design by Thomas Cleveland.
The 2007-W Reverse Proof Platinum Eagle was the main draw for collectors. This represented the first time that the United States Mint had offered a reverse proof platinum coin. It also came one year after the extremely popular anniversary set offerings for Gold and Silver Eagles, which had experienced quick sell outs and significant secondary market price appreciation.
A maximum authorized mintage of 30,000 10th Anniversary Platinum Eagle Sets was established with an initial ordering limit of one per household. The maximum mintage was high in the context of past platinum numismatic offerings. In fact, the U.S. Mint had never achieved this level of sales for a one-half ounce Proof Platinum Eagles for any year of the series. Nonetheless, collector interest was strong and during the first week of availability sales reached 14,682.
The initial pricing for the sets was $1,949.95, which compared to a market price of platinum of $1,474 per ounce on the opening day of sales. During the following weeks, the price of platinum rose, prompting a suspension of sales on February 13, 2008. Sales were resumed about a month later with the sets priced significantly higher at $2,649.95. By this time, the market price of platinum was $2,015 per ounce. In subsequent months, the price of platinum fell sharply, falling below $1,000 per ounce by October. After extended periods of suspension, the U.S. Mint finally lowered the price of the set to $1,249.95.
The 10th Anniversary Platinum Eagle Set remained available for sale until December 31, 2008 when sales were officially ended. The last reported sales figure for the set was 19,583 units.
10th Anniversary Platinum Eagle Set Specifications
Designers: John Mercanti (obverse), Thomas Cleveland (reverse)
Composition: 99.95% platinum
Weight: 15.560 grams (0.5003 ounces)
Diameter: 27.00 mm (1.063 inches)
Thickness: 1.75 mm (0.69 inches)
Edge: Reeded
Mint Mark: W
10th Anniversary Platinum Eagle Set Mintage
Mintage: 19,583
*estimated based on sales data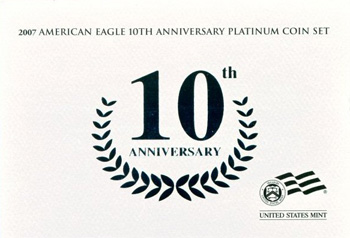 < 2007 Platinum Eagle | 2008 Platinum Eagle >