For the 2006 Platinum Eagle (Buy on eBay), the United States Mint expanded their line of numismatic offerings and also began a new three year design series. Bullion versions of the coins also continued to be issued, amidst a continued rise in the market price of platinum.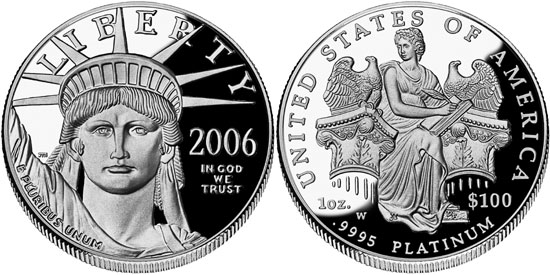 The bullion versions of the coin were not sold directly to the public, but rather distributed through a network of authorized purchasers based on the market price of platinum plus a mark up. The authorized purchasers were responsible for distributing the coins to the broader public and establishing a two way market for the coins. After several years of falling sales, demand seemed to stabilize this year, although new lows were reached for the one ounce, quarter ounce, and tenth ounce coins.
On March 24, the US Mint began sales of the 2006 Proof Platinum Eagle (Buy on eBay). These collector coins began a new three year design series entitled "The Foundations of American Democracy" celebrating the three branches of government. The first design featured the Legislative Muse, representing the nation's law, with eagles perched on two Corinthian columns, representing the Senate and the House of Representatives. The reverse was designed by Joel Iskowitz based on the statue "The Car of History" by Carlo Franzoni.
The pricing for the proof coins represented an increase from the prior year, and during the course of the offering prices were increased due to the rising market price of platinum. The maximum mintages for the coins remained at the same levels as the previous year. The proof platinum eagles were offered individually in four different denominations or as a complete four coin set.
Later in the year, the US Mint introduced additional numismatic versions of the coin as part of their holiday collection. The so-called collectible uncirculated versions were struck on specially burnished blanks and carried the "W" mint mark. The 2006-W Uncirculated Platinum Eagle (Buy on eBay) coins featured the same "Legislative Muse" design found on the proof version. In announcing the release, the US Mint indicated that they were priced at the mid-point between the collectible proof versions and the bullion versions of the coin. The collectible uncirculated coins were available individually in four different weights or as a four coin set.
While sales of the proof versions of the coin experienced an increase from the previous year, sales of the uncirculated coins was extremely low. At the time, each of the final mintages for the 2006-W Uncirculated Platinum Eagles represented all time lows for the series.
The average price of platinum during 2006 was $1,142.31.

2006 Platinum Eagle Specifications
Designers: John Mercanti (obverse), Thomas D. Rogers (bullion reverse), Joel Iskowitz (proof reverse)
Composition: 99.95% platinum
Weight ($100 Denom): 31.120 grams (1.0005 oz )
Diameter ($100 Denom): 32.7 mm (1.287 inches)
Thickness ($100 Denom): 2.39 mm (0.094 inches)
Edge: Reeded
Mint Mark: none (bullion), W (proof), W (uncirculated)
2006 Platinum Eagle Mintage
Bullion Mintage: 6,000 (1 oz), 9,602 (1/2 oz), 12,001 (1/4 oz), 11,001 (1/10 oz)
Proof Mintage: 9,152 (1 oz), 7,649 (1/2 oz), 7,813 (1/4 oz), 10,205 (1/10 oz)
Uncirculated (W) Mintage: 3,068 (1 oz), 2,577 (1/2 oz), 2,676 (1/4 oz), 3,544 (1/10 oz)