Sales of American Platinum Eagle $100, 1-Ounce Bullion Coins in 2019 continued the upward trend of recent years but remained constrained by the number of coins the United States Mint could supply for the market. The 2019 American Platinum Eagle Bullion Coin (Buy on eBay) went on sale on January 7, 2019 and sold 27,100 coins that month to its network of Authorized Purchasers, which was followed by 2,400 in February, 4,000 in March and 6,500 in April. Supplies of the coin were exhausted in April, making the cumulative total 40,000 for the year. The Mint announced that it would strike any more coins in 2019.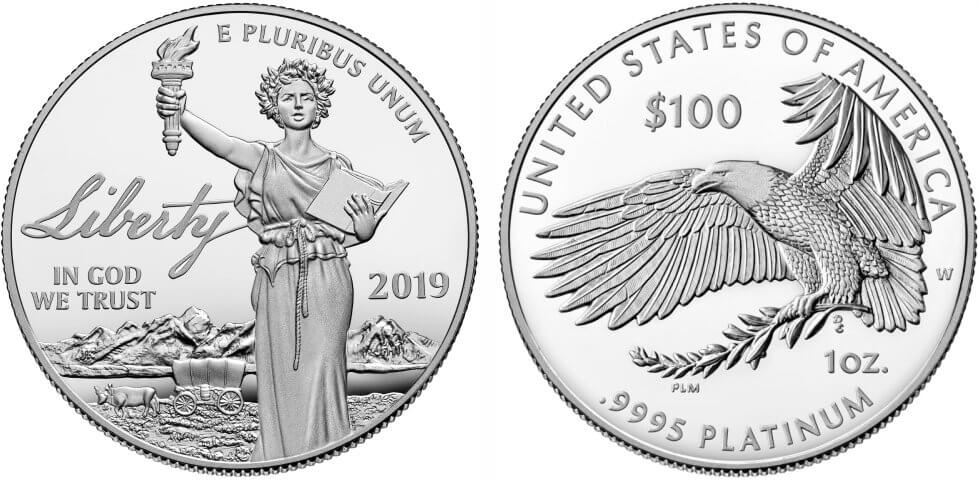 The 2019-W Proof American Platinum Eagle (Buy on eBay) went on sale January 31, 2019 with an initial price of $1,220. First day sales were 3,225 of a maximum mintage of 15,000 coins. The first four days of sales totaled 4,607, or 30.7 of the authorized maximum. Sales of the coin continued into the next couple years as the coin did not sell out.
The obverse depicts Lady Liberty holding the flaming torch and wearing a wreath crown (which resembles how she appears on the 2015 American Liberty $100 High-Relief Gold Coin except that there she has an American flag in one hand) and holding an open book in her other hand with mountains and pioneers heading out West in the lower background. The torch represents the guiding light liberty provides, while the book represents the rule of law and its equal application.  According to the Mint, "The wild terrain featured in the background evokes the quintessential American spirit to explore new territory and the freedom to pursue new landscapes, news ideas, and new ways of life."
As with the other coins in this 3-part series of coin that ran from 2018 to 2020, the obverse was designed by Justin Kuntz and sculpted by Joseph Menna and the common reverse with an eagle in flight carrying an olive branch designed by Patricia Lucas-Morris.
The coin had cumulative sales which totaled 11,268.
2019 Platinum Eagle Specifications
Designer: Justin Kunz (Proof obverse), Patricia Lucas-Morris (Proof reverse)
Composition: 99.95% pure platinum
Weight: 31.120 grams (1.0005 oz)
Diameter: 32.7 mm (1.287 inches)
Thickness: 2.39 mm (0.094 inches)
Edge: reeded
Mint Mark: W (proof)
2019 Platinum Eagle Mintage
Bullion: 40,000
Proof: 11,268

< 2018 Platinum Eagle | 2020 Platinum Eagle >