After nearly an entire year of uncertainty about the status of both the bullion and numismatic versions, the 2009 Platinum Eagle (Buy on eBay) would be offered only as a one ounce proof coin. The United States Mint officially announced in October of 2009 that Platinum Eagle bullion coins would not be produced and only a single platinum numismatic offering would be available for the year.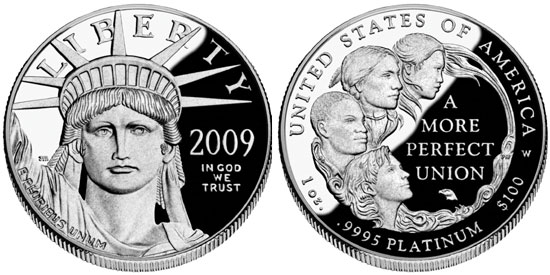 The cancellation of the bullion Platinum Eagles was a disappointment for many precious metals investors and collectors. The coins had been minted continuously since 1997 in one ounce, one-half ounce, one-quarter ounce, and one-tenth ounce sizes. Although sales never approached the levels of the more popular Gold and Silver Eagles, the coins represented one of the few available platinum bullion coin offerings in the world. The void was eventually filled when the Royal Canadian Mint relaunched their Platinum Maple Leaf coins during the same year and the Perth Mint launched Platinum Platypus coins in the following year.
The one ounce 2009 Proof Platinum Eagle would begin a new six year design series portraying the foundations of American democracy as found in the Preamble to the Constitution. Each design would be inspired by narratives prepared by Chief Justice John G. Roberts. The first theme "To Form A More Perfect Union" was represented with an image of four faces of diversity with their hair and clothing intertwined. In keeping with the American Eagle theme, a small bald eagle privy mark was added within the design. The mark was created from an original coin punch identified at the Philadelphia Mint.
As a change from all previous years, the fractional proof versions of the coin were not offered. Additionally, the collectible uncirculated versions, previously available from 2006 to 2008, were not offered. The single coin offering carried a maximum authorized mintage of 8,000 coins and ordering limit of five per household. The one ounce coins were priced at $1,792 each with sales beginning December 3, 2009.
After just one week of availability, the coins sold out of their entire maximum authorized mintage. The uncharacteristically strong demand for the coins may have been driven in part by the lack of numismatic offerings for the Gold and Silver Eagles. To the dismay of many collectors, these offerings had been canceled for the year due to strong demand for the bullion versions of the coins. Collectors were left with only one American Eagle numismatic coin to purchase for the year.
2009 Platinum Eagle Specifications
Designers: John Mercanti (obverse), Susan Gamble (reverse)
Composition: 99.95% platinum
Weight: 31.120 grams (1.0005 oz )
Diameter: 32.7 mm (1.287 inches)
Thickness: 2.39 mm (0.094 inches)
Edge: Reeded
Mint Mark: W (proof)
2009 Platinum Eagle Mintage
Bullion Mintage: none issued
Proof Mintage: 7,945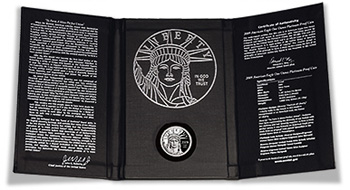 < 2008 Platinum Eagle | 2010 Proof Platinum Eagle >