The United States Mint issued the 2016 Platinum Eagle (Buy on eBay) in both proof and bullion format. The proof version had a considerably higher mintage than the previous year. The bullion version marked a return following a one year absence, as in the previous year the Mint had experienced a delay in obtaining sufficient quantities of precious metals blanks.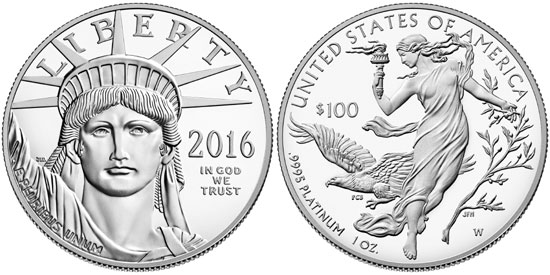 Proof Coin
The 2016 Proof Platinum Eagle (Buy on eBay) would represent the second and final issue within a two-year series of reverse designs featuring innovative and beautiful representations of the nation's core values of liberty and freedom. The reverse, which was designed by Paul C. Bilan and engraved by Joseph Menna, features an image of Liberty in a flowing robe holding a torch in her right hand to symbolize enlightenment and an olive branch in her left hand to symbolize peace. The branch contains thirteen olives, which are intended to represent the original thirteen colonies. A bald eagle with wings outstretched appears in the background. The inscriptions read "UNITED STATES OF AMERICA", ".9995 PLATINUM 1 OZ.", and the denomination "$100".
The proof coin would be struck in one ounce size only at the West Point Mint with a maximum mintage of 10,000 pieces. The sales price of $1,350 per coin was based on the weekly average market price of platinum coinciding with the release date. Despite the significantly higher mintage level compared to the prior year and an ordering limit of only one per household, the coins achieved a sell out within the first hour of availability. When the dust settled, the last reported sales for the product were 9,151, due to the impact of returns and order cancellations.
Bullion Coin
On July 25, 2016, the United States Mint began sales of the bullion version of the 2016 Platinum Eagle to its network of authorized purchasers. The bullion version of the coin carried the same obverse design by John Mercanti featuring a portrait of the Statue of Liberty with inscriptions "LIBERTY", "E PLURIBUS UNUM", "IN GOD WE TRUST", and the date "2016". The reverse carried the original soaring eagle design by Thomas D. Rogers along with the inscriptions "UNITED STATES OF AMERICA" and the precious metal content and denomination.
The bullion coins were struck in one ounce size only at the West Point Mint. Only a limited inventory of coins was made available to authorized purchasers under an allocation method. On the first day of availability, 17,100 pieces were ordered. This amount rose to 18,400 by the following day. Ultimately, a total of 20,000 bullion coins were sold through early August 2016, when the United States Mint indicated that the entire mintage had been exhausted. This placed the bullion piece amongst the higher mintage issues of the series.
2016 Platinum Eagle Specifications
Designers: John Mercanti (obverse), Thomas D. Rogers (bullion reverse), Paul C. Bilan (proof reverse)
Composition: 99.95% platinum
Weight ($100 Denom): 31.120 grams (1.0005 oz )
Diameter ($100 Denom): 32.7 mm (1.287 inches)
Thickness ($100 Denom): 2.39 mm (0.094 inches)
Edge: Reeded
Mint Mark: W (proof)
2015 Platinum Eagle Mintage
Bullion Mintage: 20,000
Proof Mintage (Last Reported Sales): 9,151
< 2015 Proof Platinum Eagle | 2017 Platinum Eagle >