Sales of the bullion version of the 2021 American Platinum Eagle (Buy on eBay), which is only available in the $100, 1-ounce size, continued their robust trend of recent years, reaching a total of 75,000 coins. They were offered to the United States Mint's network of Authorized Purchasers in two batches, which included 35,000 coins in March and 40,000 coins in May. At that point, the Mint's supplies were exhausted and there were no plans to produce more coins in 2021. The Mint's coining production continued at that time to be impacted by the COVID-19 pandemic.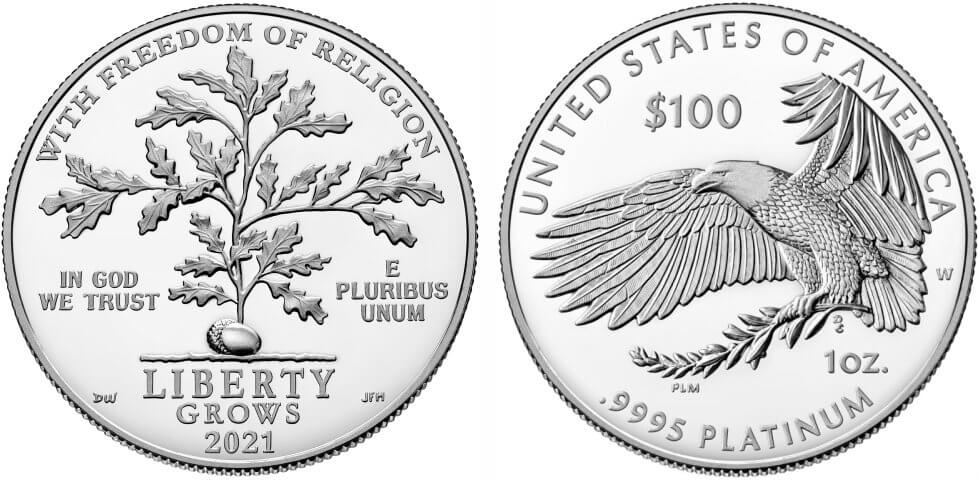 The 2021-W Proof American Platinum Eagle (Buy on eBay) was the first coin in a new 5-coin series known as "First Amendment to the United States Constitution" and was dedicated to freedom of religion. The rights enumerated in the First Amendment include freedom of religion, freedom of speech, freedom of the press, the right to assemble and the right to petition, which will each be the subject of one of the coins in this new series.
The motifs for the different obverses of each coin in this series that runs from 2021 to 2025 are oriented around the lifecycle of an oak tree as it grows and evolves from a seedling into a fully-grown tree – a metaphor for the growth of the United States as a country that values freedom. From the Bill of Rights, which is the seed for our evolution as a nation, Liberty grew to became something if great strength and beauty by building up the foundation established in the First Amendment.
For the 2021 Freedom of Religion coin the obverse design features an image of a seedling and an acorn with the inscription "WITH FREEDOM OF RELIGION LIBERTY GROWS." It was designed by Donna Weaver and sculpted by Joseph Menna. For the reverse the same design of an eagle in flight created by Patricia Lucas-Morris and sculpted by Donald Everhart that was used on the prior series from 2018 to 2020 was retained for this series.
The Proof coin went on sale March 3 when it sold 7,307 coins priced at $1,645, or almost 41% of the authorized maximum mintage of 15,000 coins. Cumulative sales of the coin were 9,879 as of June 12, 2022, and the coin is no longer available. It is likely that the U.S. Mint produced an initial run of 10,000 coins rather than the full 15,000 mintage, which is how it typically operates.
2021 Platinum Eagle Specifications
Designer: Donna Weaver (Proof obverse), Patricia Lucas-Morris (Proof reverse)
Composition: 99.95% pure platinum
Weight: 31.120 grams (1.0005 oz)
Diameter: 32.7 mm (1.287 inches)
Thickness: 2.39 mm (0.094 inches)
Edge: reeded
Mint Mark: W (proof)
2021 Platinum Eagle Mintage
Bullion: 75,000
Proof: 9,879

< 2020 Platinum Eagle | 2022 Platinum Eagle >