In 2020, sales of bullion American Platinum Eagle $100, 1-Ounce Coins (Buy on eBay) continued to rise beyond the levels of recent years because supplies of the metal needed for the coin were available in larger quantities. In January 2020 sales were 14,500, which was followed by 9,300 in February, an impressive 31,200 in March and 1,500 in April before supplies were exhausted. Cumulative sales for the year were 56,500.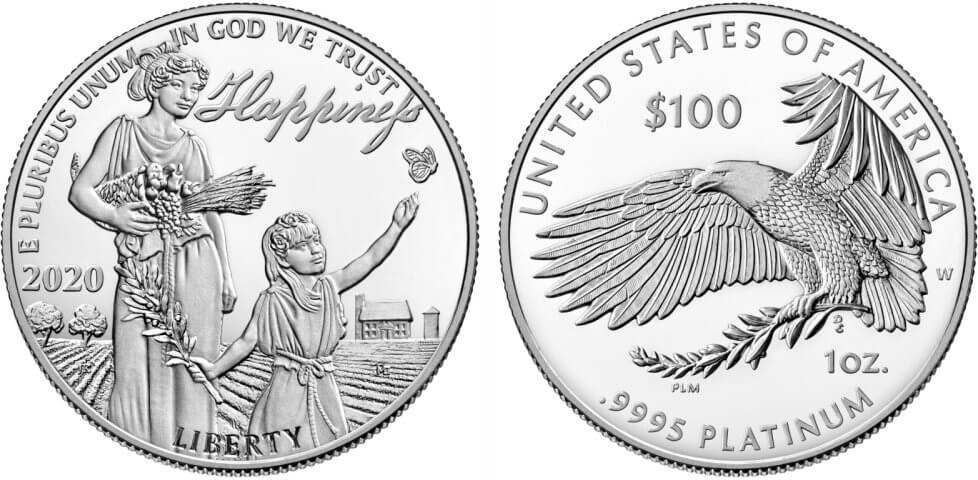 The 2020-W Proof American Platinum Eagle Coin (Buy on eBay) concluded the three-year years, "Preamble to the Constitution," in which each coin depicted motifs that represented the three pillars of that document, namely, life, liberty and the pursuit of happiness.
The coins went on sale on March 3 with an initial price of $1,545 at a time when the spot price of platinum was $976. Within 24 hours 40% of the authorized maximum mintage of 13,000. But sales did not maintain that pace going forward. Cumulative sales are 9,732, or 75% of the authorized maximum.
The obverse design of the Pursuit of Happiness coin features an agricultural-related theme in which Lady Liberty is shown harvesting the fruits of her labor with a young girl nearby. She is shown carrying a cornucopia that symbolizes the bounty that only liberty can provide. In the background are shown her home, a grain silo and an orchid that represent American hopes, values and aspirations, which closes the narrative that started with the 2018 coin and continued with the 2019 coins. It is noteworthy that the inscription "Happiness" appears as it did on the Declaration of Independence, including the long "s," a letterform that was typical of the time but is no longer used.
2020 Platinum Eagle Specifications
Designer: Justin Kunz (Proof obverse), Patricia Lucas-Morris (Proof reverse)
Composition: 99.95% pure platinum
Weight: 31.120 grams (1.0005 oz)
Diameter: 32.7 mm (1.287 inches)
Thickness: 2.39 mm (0.094 inches)
Edge: reeded
Mint Mark: W (proof)
2020 Platinum Eagle Mintage
Bullion: 56,500
Proof: 9,732
< 2019 Platinum Eagle | 2021 Platinum Eagle >