The 2015 Platinum Eagle (Buy on eBay) was offered by the United States Mint in proof format only. This proof coin represented the launch of a new two year series with modern reverse designs featuring innovative and beautiful representations of the nation's core values of liberty and freedom.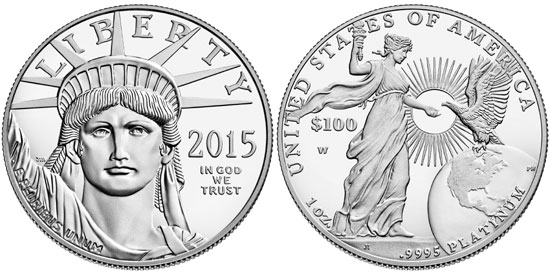 From the launch of the Platinum Eagle program in 1997 through 2008, the U.S. Mint had annually offered Platinum Eagle bullion coins across four different sizes. Amidst surging demand for gold and silver bullion coins, production of the platinum bullion coins was suspended in late 2008. The suspension would last for the next five years, until production of one ounce platinum bullion coins was resumed in 2014. For 2015, the U.S. Mint indicated that the bullion coins would not be produced due to a lag in obtaining sufficient quantities of platinum production blanks. Production of platinum bullion coins would resume in 2016 at the West Point Mint.
Obverse Design
The 2015 Proof Platinum Eagle features the obverse design used throughout the series featuring a portrait of Liberty looking to the future as a modern interpretation of the American icon. The inscriptions include "LIBERTY" and "IN GOD WE TRUST" along with the date of issue "2015". The obverse was designed and engraved by John Mercanti.
Reverse Design
The reverse design is titled "Liberty Nurtures Freedom" and features a depiction of Lady Liberty holding a torch in one hand with the other hand outstretched to an American bald eagle. The eagle is perched on a globe and represents freedom. Liberty's hand and the eagle's beak are framed in the rays of the sun. The inscriptions read "UNITED STATES OF AMERICA", "1 OZ.", ".9995 PLATINUM", and "$100". The reverse was designed by Joel Iskowitz and engraved by Phebe Hemphill.
The United States Mint opened sales for the 2015 American Platinum Eagle Proof Coins on December 3, 2015. The coins were available in one ounce size only, struck at the West Point Mint and carrying the "W" mint mark. The coins were initially priced at $1,200 each and carried an ordering limit of just one coin per household. A prompt sell out ensued and the coins quickly commanded sharp premiums on the secondary market. The last reported sales of 3,886 pieces represented the lowest mintage for a one ounce proof coin for the entire series.
2015 Platinum Eagle Specifications
Designers: John Mercanti (obverse), Thomas D. Rogers (bullion reverse), Susan Gamble (proof reverse)
Composition: 99.95% platinum
Weight ($100 Denom): 31.120 grams (1.0005 oz )
Diameter ($100 Denom): 32.7 mm (1.287 inches)
Thickness ($100 Denom): 2.39 mm (0.094 inches)
Edge: Reeded
Mint Mark: W (proof)
2015 Platinum Eagle Mintage
Bullion Mintage: not issued
Proof Mintage (Last Reported Sales): 3,886
< 2014 Platinum Eagle | 2016 Platinum Eagle >