The United States Mint produced the 2000 Platinum Eagle (Buy on eBay) coins in both bullion and proof format. This represented the fourth year of release for the series struck in .9995 platinum.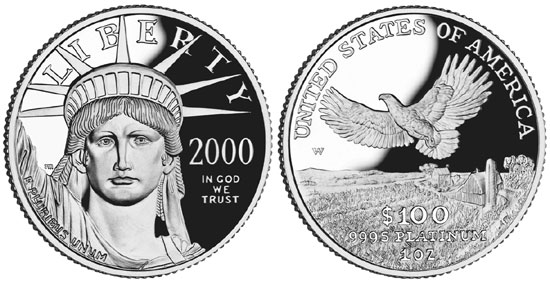 The mintage levels for the bullion versions of the coin showed a sharp decline across all four different sizes, consisting of 1 ounce, 1/2 ounce, 1/4 ounce, and 1/10 ounce coins. The biggest decline was experienced for the one ounce coins, which showed more than an 80% decline from the previous year. This drop in purchases was likely influenced by the higher cost of coins, following a rise in the market price of platinum.
The 2000 Proof Platinum Eagle (Buy on eBay) struck for collectors featured the third reverse design within the "Vistas of Liberty" series. Each year a bald eagle was portrayed in a different landscape of the United States. This year's design featured the eagle within America's heartland, flying above a Midwestern field. This reverse designed by Al Meletsky was paired with the original obverse design by John Mercanti featuring the Statue of Liberty.
Pricing for the individual proof coin options and four coin proof set were increased by the United States Mint, and sales showed a slight decline from the prior year.
The average price of platinum during 2000 was $544.03.
2000 Platinum Eagle Specifications
Designers: John Mercanti (obverse), Thomas D. Rogers (bullion reverse), Alfred Maletsky (proof reverse)
Composition: 99.95% platinum
Weight ($100 Denom): 31.120 grams (1.0005 oz )
Diameter ($100 Denom): 32.7 mm (1.287 inches)
Thickness ($100 Denom): 2.39 mm (0.094 inches)
Edge: Reeded
Mint Mark: none (bullion), W (proof)
2000 Platinum Eagle Mintage
Bullion Mintage: 10,003 (1 oz), 18,892 (1/2 oz), 20,054 (1/4 oz), 34,027 (1/10 oz)
Proof Mintage: 12,453 (1 oz), 11,049 (1/2 oz), 11,995 (1/4 oz), 15,651 (1/10 oz)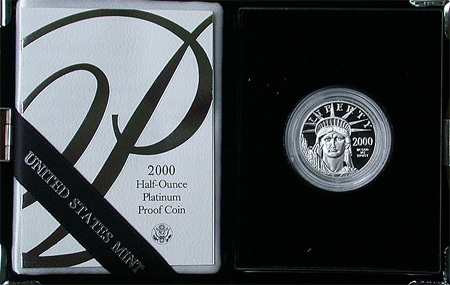 < 1999 Platinum Eagle | 2001 Platinum Eagle >