The 1997 Platinum Eagle (Buy on eBay) marked the inaugural year for the new series of investment and collector coins. These were the first platinum coins ever issued by the United States Mint, with the one ounce coin carrying the highest face value ever featured on a U.S. coin.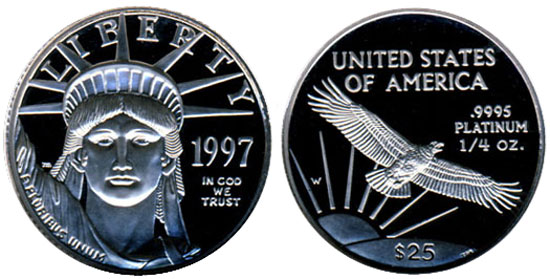 The obverse design featured a portrait of the Statue of Liberty designed by John Mercanti. The inscription "LIBERTY" appears above, with the date and "IN GOD WE TRUST" to the left, and "E PLURIBUS UNUM" incused on the statue's left shoulder. The initial reverse of the coin featured a soaring bald eagle against the backdrop of a rising sun, designed by Thomas D. Rodgers. Inscriptions included "UNITED STATES OF AMERICA", ".9995 PLATINUM", the bullion weight, and legal tender face value. This reverse design would be used in subsequent years for the bullion versions, while a new reverse design would be created each year for the collector coins.
Platinum Eagles were available in a range of weights for both the bullion and collector coins. This included one ounce coins with a face value of $100, one-half ounce coins with a face value of $50, one-quarter ounce coins with a face value of $25, and one-tenth ounce coins with a face value of $10.
The U.S. Mint offered the 1997 Proof Platinum Eagle (Buy on eBay) to collectors individually for each denomination or as part of a 4 coin set. Maximum mintage levels were established with optimistic expectations for a sell out. Ultimately, the individual one ounce, individual one-tenth ounce, and set options attained a sell out. Besides the four coin proof set, the U.S. Mint had also offered the Impressions of Liberty Set, which included the one ounce proof Gold Eagle, Platinum Eagle, and Silver Eagle. These sets were limited to 5,000 units, individually numbers, with a certificate of authenticity hand signed by the Mint Director.
The average price of platinum during 1997 was $395.23.
1997 Platinum Eagle Specifications
Designers: John Mercanti (obverse), Thomas D. Rogers Sr. (reverse)
Composition: 99.95% platinum
Weight ($100 Denom): 31.120 grams (1.0005 oz )
Diameter ($100 Denom): 32.7 mm (1.287 inches)
Thickness ($100 Denom): 2.39 mm (0.094 inches)
Edge: Reeded
Mint Mark: none (bullion), W (proof)
1997 Platinum Eagle Mintage
Bullion Mintage: 56,000 (1 oz), 20,500 (1/2 oz), 27,100 (1/4 oz), 70,250 (1/10 oz)
Proof Mintage: 20,851 (1 oz), 15,431 (1/2 oz), 18,628 (1/4 oz), 36,993 (1/10 oz)