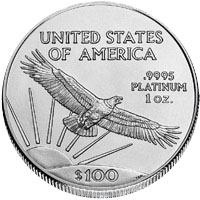 Platinum Eagle Guide was created to provide comprehensive information about the series of American Platinum Eagles, including both the bullion and collector versions of the coins.
Bullion and proof Platinum Eagles were first issued in 1997. The following year, the proof versions of the coin began to feature a different annually rotating reverse design. This provided a very unique aspect to this series. Mintages for all coins are generally very low, giving the coins value as both bullion and numismatic issues.
The site includes detailed information for each year of issue for the Platinum Eagles. This includes mintage data and images of each coin. Also provided are descriptions of the different versions of the coin issued by the United States Mint, special sets, and a scarce pre-production strike inadvertently distributed in 2007.
While a great deal of care goes into providing up to date and accurate information, we cannot be responsible for any inaccuracies.